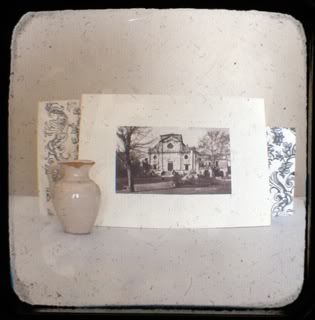 A little while ago, I became fascinated with TtV photography. TtV stands for Through the Viewfinder, and it's one way to bring obsolete cameras back to life and spice up über-modern digital photography with a bit of an analog look.
TtV involves using two cameras to take a photo. One camera must be functional: a DSLR, a point-and-shoot digital camera, a modern film camera, or even a cell phone camera will work.
The other camera will be used strictly for its viewfinder. So the larger and more interesting the viewfinder, the better. The Argus Argoflex is perfect for this, as its viewfinder has approximately a 2" diameter. But as you'll see a bit further down, many other cameras, including ones with small viewfinders, can also be used for different effects.
The process is quite simple. Step one: frame your shot using the older camera.
Step two: use the other camera to take a photo of the viewfinder… just like I've done above. Step 3: Crop the photo to your liking. One benefit of TtV photography is that the edges of the viewfinder create an automatic frame for your image… like so:
TtV is also great for still life photography at home:
TtV is one way to add some imperfections and analog charm to your photos, to give them a different character. Many old cameras will have plenty of dust in the viewfinder to add plenty of rustic charm to your images. But be careful not to focus on the dust specs, or your subject will be blurry while the dust specs take over:
All of the above images were taken with the Argus Argoflex. But other cameras with much smaller viewfinders work as well. Here is a sample of images taken through teeny tiny viewfinders, all about the size of my pinky fingernail:
As you can see, the shape, color tint, and any other characteristics of the viewfinder all affect the final image. And yes, TtV can be done even with film. Check out these images, taken with a Canon AE-1.